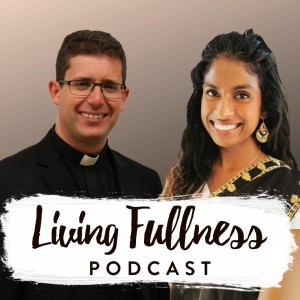 Wednesday Sep 01, 2021
The Beatitudes Series - Beatitude 1 - Blessed are... the poor in Spirit, for theirs in the Kingdom of Heaven
Patreon Shout out - 
Matthew Tan, Grace Taylor, Melissa Murray, and Morgan Tame. Thank you for joining our community and financially backing our mission. If you would like to help us too, please visit our Patreon Page. 
https://www.patreon.com/LivingFullness
Our hosts begin the Series on the Beatitudes found in Matthew 5:3-12. The word 'beatitude' comes from the word 'blessedness' and is a pathway that Christ demonstrates how we live out our lives of joy and abundance not only in Heaven but also here on earth. They help to bring the living out of the commandments to fulfilment. Each beatitude has a relational promise attached. 
Quote ' Despise what Jesus despised on the Cross, and love what Jesus loved on the Cross' - Thomas Aquinas
First Beatitude - Blessed are the poor in spirit for theirs is the Kingdom of Heaven.  Our hosts discuss different forms of poverty as well as the difference between economic poverty and being poor in spirit, and one way this Beatitude is linked to the First Commandment. 
St Louis IX letter to his son
T.B.G
Padre - Narranderra Parish response to Fr Rafter moving to the Seminary. 
Stina - Integration of mind, body, and spirit in the healing journey.