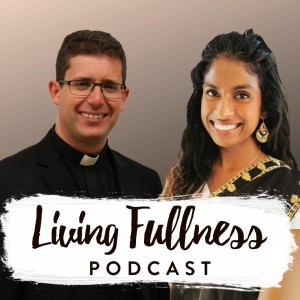 Wednesday Nov 03, 2021
Beatitude 8 - Those who are persecuted for righteousness, theirs is the Kingdom of Heaven
Blessed are those who are persecuted for my sake, for theirs is the Kingdom of Heaven. 
Shout outs to Andrew Flores, Dr Peter McGregor and Sr Isobel 
This is the final episode of the beatitude series. The 8th beatitude is a reminder that the cross is the only way to heaven, and in our current climate, standing for our convictions is a challenge especially when the one we love is not the one the world tends to love. The world can't see past death and wants to avoid it at all cost, where as a Christian recognizes, to enter into eternal life death must precede it. The episode looks at true martyrdom as opposed to extreme and fundamentalism. The episode is linked to the 2nd commandment as standing for righteousness sake, really means to stand for Jesus. It's about standing not just for a fact, but for 'someone' (God) even at the cost of our own lives, as he has already laid his life down for us such as the example of Maximillian Kolbe. This beatitude demands love but not overbearingly, but in a way of calling us out and into the greatness we were created for. 
T.B.G
Padre - Valedictorian Dinner at St Francis College 
Stina - Presented the keynote address for LHAC forum hosted by the MLHD & PHN 
Subscribe or Follow the Podcast and help up share our mission. Join our Community on Patreon for Exclusive Content, behind the scenes, merch and MORE, and watch our guest interviews on our YouTube Channel. Follow us on Social Media: Instagram AND Facebook